Pack content
Whey Isolate Lean Musclebuilder
Ultra Pure Whey Isolate Enhanced With Creatine & Aminos
Supported Goal

 

Build Muscle

Main Ingredient Whey Protein
---
PRODUCT OVERVIEW
Whey isolate & peptides as primary source*

Builds 70% more lean muscle than regular whey*

1

Superior to other whey protein Formulas*

1

Amplifies recovery, performance & strength*
1In a six-week, double-blind study involving 36 test subjects who have at least three years of weight-training experience divided into three groups, subjects who have combined the core ingredients in Nitro-Tech® with a weight-training program gained 70% more lean muscle than subjects using regular whey protein (8.8 lbs. vs. 5.1 lbs.) and increased their bench press more than subjects using regular whey protein (34 lbs. vs. 14 lbs.).*
WHICH NITRO-TECH PROTEIN IS FOR YOU?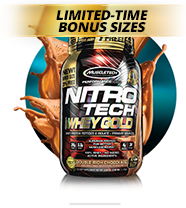 NITRO-TECH 100% WHEY GOLD
Superior whey protein peptides to support muscle building
NITRO-TECH POWER
BCAA complexes for raw power*
NITRO-TECH RIPPED
Ultimate Protein + Weight Loss Formula
NITRO-TECH NIGHTTIME
Fuel your muscles while you sleep
NITRO-TECH FUELS THE PROS
Very few proteins completely change the game, and for years bodybuilders were given very few options for protein sources that were scientifically formulated to help build more muscle. As a result, for years you could basically change protein brands every month and see no difference in gains at all.
This changed with the launch of Nitro-Tech®. MuscleTech® researchers invested countless hours working to create a protein formula that packs on more muscle and builds more strength than regular whey protein. With the powerful Nitro-Tech® formula, they succeeded and now bodybuilders and other athletes have an advanced whey protein supplement that actually delivers superior musclebuilding results!*
5.3g
Glutamine & Precursor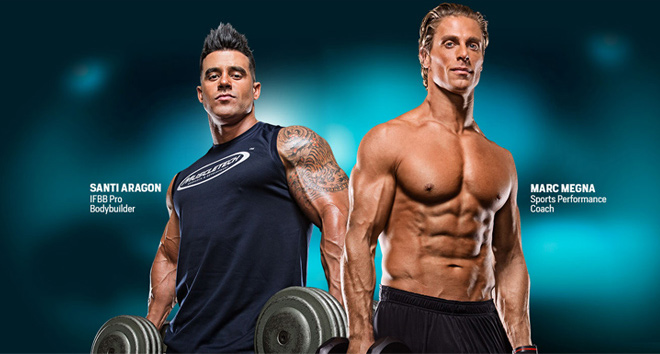 THE SCIENCE BEHIND NITRO-TECH
The Most Powerful Protein Formula Ever Developed!
Nitro-Tech is a scientifically engineered, enhanced whey protein formula designed for all athletes who are looking for more muscle, more strength and better performance. Nitro-Tech contains protein sourced primarily from whey protein isolate and whey peptides – two of the cleanest and purest protein sources available. Other whey protein supplements might have only a few grams of these highly bioavailable and easily digested proteins. Nitro-Tech® is also enhanced with the most studied form of creatine for even better gains in muscle and strength.*
Multi-Phase Filtration Technology
Each scoop of Nitro-Tech® contains 30 grams of protein, primarily from whey protein isolate and whey peptides. These have several advantages over other forms of protein.*
For starters, they are rapid absorbing, and with the highest biological value, your body can easily assimilate the amino acids from the protein to build some seriously impressive muscle. This makes Nitro-Tech® an ideal choice as a post-workout protein and for igniting muscle protein synthesis any time throughout the day.*
The whey protein in Nitro-Tech® has been filtered using multi-phase filtration technology for less fat, lactose and impurities than cheaper protein sources. Furthermore, Nitro-Tech® is manufactured according to cGMP standards, as is required for all dietary supplements to ensure quality and integrity.*
How Nitro-Tech Works
Delivers Ultraclean Whey Isolate and Peptides
Supplying 30 full grams of the most quickly absorbable and highest biological value proteins available. These are two of the cleanest sources of protein available to athletes.*
Contains a Clinically Proven Dose of Pure Creatine Monohydrate
Each scoop supplies a full 3-gram dose of the most researched form of creatine available – creatine monohydrate. Creatine in combination with whey protein has been clinically suggested by a published study to be more effective for building muscle than whey protein on its own.*
Provides All Essential Amino Acids
The protein in Nitro-Tech® provides a complete amino acid profile, which means that every serving of Nitro-Tech® provides you with all the essential amino acids, including the 6.9 grams of BCAAs critical for building muscle. Plus you get the conditionally essential and dispensable amino acids, including 5.3 grams of glutamine and it's precursor.*
Build More Strength Than With Regular Whey Protein
Nitro-Tech® contains a research-proven 3-gram dose of creatine monohydrate, which combined with whey protein, helps to build more strength than regular whey protein. In a breakthrough study, subjects using the core ingredient combination in Nitro-Tech® increased their one-rep max bench press by 34 lbs., compared to only 14lbs. for subjects using regular whey protein.*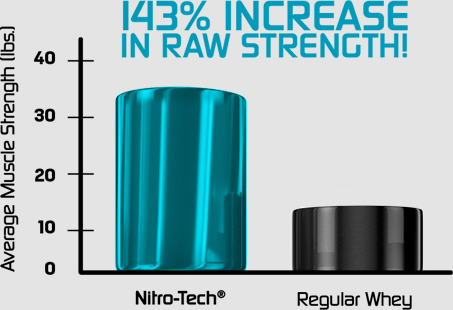 Ultra-Pure Micronized Creatine Powder
5000mg of Creatine to Support Lean Muscle and Increase Strength
Supported Goal Build Muscle
Main Ingredient Creatine Monohydrate
---
PLATINUM
100% CREATINE
5000mg Creatine
Builds Lean Muscle*
Increases Strength*
ULTRA-PURE MICRONIZED CREATINE POWDER
Platinum 100% Creatine provides your muscles with the world's highest quality and most clinically researched form of micronized creatine. Creatine is suggested to support lean muscle and promote strength and endurance.
BUILD 6 LBS. OF MUSCLE
In one clinical study, subjects combing diet and training with the dose of creatine found in one max serving of Platinum 100% Creatine gained an amazing 6 lbs. of muscle in just 6 weeks.1* And in a separate study, test subjects increased their bench press strength by an amazing 18.6% in just 10 days!*2
1. Peeters et al. 1999. J. Strength and Cond. Res. 13(1):3-9.
2. Selsby et al 2004. J. Strength and Cond. Res. 18(2): 311-315.
THE PLATINUM 100% CREATINE ADVANTAGE
Platinum 100% Creatine acts as a phosphate donor pool to hard-working muscles, helping you train harder for longer.* That means real gains in size and strength that can't go unnoticed!*
Clinically Dosed Performance Enhancing BCAA Formula With Betaine
Builds Muscle And Enhances Performance
---
AMINO ACID
AMINO BUILD NEXT GEN

*MuscleTech® is America's #1 Selling Bodybuilding Supplement Brand based on cumulative wholesale dollar sales 2001 to present.
BUILDS MUSCLE AND ENHANCES PERFORMANCE*
---
Branched chain amino acids (BCAAs) have been used by top bodybuilders and other athletes for years due to their ability to support training endurance and recovery!* BCAAs are comprised of three powerful amino acids – leucine, isoleucine and valine – and are perfect for any hard-training athlete because they serve as primary building blocks for muscle and help combat muscle loss and protein breakdown, especially during intense training.*
And while many BCAA powders deliver these basics, most BCAA or amino powders are not based on scientific research, nor are they designed to enhance performance. MuscleTech® researchers knew this when they created the original AMINO BUILD® formula, and that's why they engineered more than just another "me too" amino formula. Instead, AMINO BUILD was developed with elite athletes in mind and formulated with clinically researched ingredients that drive peak performance – including a massive dose of BCAAs, clinically researched doses of leucine, and betaine – that other amino formulas simply didn't have.*
THE SCIENCE BEHIND: AMINO BUILD NEXT GEN
THE CLINICALLY DOSED MUSCLE- & PERFORMANCE-ENHANCING BCAA FORMULA
Now MuscleTech® researchers have taken this most powerful amino acid formula and made it even better! Introducing AMINO BUILD® NEXT GEN! This powerful, new formula updates the original AMINO BUILD formula with a new electrolyte complex and even better flavor! And unlike other underdosed products that have little or no research to back up their claims, AMINO BUILD NEXT GEN is back by four different clinical studies that demonstrate its muscle-, strength- and performance-enhancing abilities!*
DELIVERS 8G OF BCAAS
This powerful pre- and intra-workout complex contains a massive 8g dose of 100% free-form BCAAs (per 2 scoops) in the ideal 2:1:1 ratio to help fuel skeletal muscles, preserve muscle glycogen stores and reduce protein breakdown.*
CONTAINS A CLINICALLY STUDIED DOSE OF BETAINE FOR MORE LEAN MUSCLE*
Each two-scoop serving of AMINO BUILD®NEXT GEN also features a clinically studied 2.5g dose of betaine added to the formula that helped subjects significantly enhance their muscular endurance. This 2.5g dose also helped test subjects pack on 3.75 lbs. of lean muscle!*
PROVIDES A PRECISE ELECTROLYTE COMPLEX
AMINO BUILD® NEXT GEN is a truly complete formula featuring precise doses of coconut water and watermelon juice as well as electrolytes to help replenish electrolytes that are lost during hard training.*
POWERS ENDURANCE PERFORMANCE WITH A CLINICALLY STUDIED DOSE OF TAURINE*
Each two-scoop serving of AMINO BUILD®NEXT GEN features a 1g dose of taurine, which is clinically shown to improve athletic performance in endurance athletes.*
---
TEST SUBJECTS BUILT 3.75 LBS. OF LEAN MUSCLE!*
Betaine has quickly become a staple of many athletes' supplementation plans because of its ability to deliver real musclebuilding results.* With the launch of the original AMINO BUILD® formula, Team MuscleTech® researchers were among the first to include a clinical dose of betaine in any supplement, and the science continues to support this amazing ingredient!
In a 2013 study featuring 23 experienced strength-trained men between the ages of 18 and 35 conducted at a leading American University and published in the Journal of The International Society of Sports Nutrition, researchers found that subjects who supplemented with 1.25g of betaine twice a day with weight training, gained 3.75 lbs. of muscle in 6 weeks – while the placebo group gained just 0.66 lbs.* That's over 5.5 times the muscle gained versus the placebo group from the exact dose found in 2 scoops of AMINO BUILD® NEXT GEN
Check out the studies on Betaine:
1. Cholewa et al., 2013. Effects of betaine on body composition, performance, and homocysteine thiolactone [Abstract]. Journal of the International Society of Sports Nutrition.
Retrieved from bit.ly/1Y8YR7t
2. Hoffman et al., 2009. Effect of betaine supplementation on power performance and fatigue [Abstract]. Journal of the International Society of Sports Nutrition. Retrieved from bit.ly/1QDn14M
Study subjects put on 3.75 lbs. of lean muscle in 6 weeks in leading university research published in the Journal of the International Society of Sports Nutrition*.
CLINICALLY SHOWN TO BOOST STRENGTH BY 40%*
Leucine plays a central role in muscle growth. In fact, it's the key dietary amino acid that has the capacity to stimulate muscle protein synthesis. It does this by stimulating mTOR, the body's master protein synthesis regulator. This makes the leucine content of AMINO BUILD® NEXT GEN key to getting real results, and one of the reasons why MuscleTech® Researchers
include 4g in each 2-scoop serving, while most other amino formulas come in underdosed on this critical amino acid.*
AMINO BUILD NEXT GEN is formulated with the exact 4g dose of leucine shown in a clinical study conducted (from a leading international university) to help subjects increase their 5-rep max strength by over 40% in 12 weeks.* These are incredible results!
This study was published in the journal. You can check out the full research here:
ENHANCE ENDURANCE AND PERFORMANCE WITH THE FIRST DOSE!
Taurine is one of the most abundant amino acids in the body and plays a variety of roles – one of which is to support endurance performance.
A 2013 study found that the 1g dose of taurine, found in a full 2-scoop serving of AMINO BUILD®NEXT GEN, improved performance in endurance athletes. This study showed that trained athletes consuming 1g of taurine improved their 3km time trial by 1.7% without significantly affecting heart rate or oxygen uptake!*
This study was published in the International Journal of Sports Physiology and Performance. Read the full research paper here:
TESTED FOR QUALITY AND PURITY
To ensure a high standard of quality, each batch of AMINO BUILD® NEXT GEN Next Gen also undergoes strict quality control and is third-party tested and verified to ensure that each bottle meets the highest standards of purity, quality and consistency.
---
FLAVOR THAT'S SECOND TO NONE!
AMINO BUILD® NEXT GEN is flavored by experts in one of the world's top flavoring houses in order to taste better than any other amino acid powder on the market. Whether you drink it while you work out our sip on it throughout the day, we're confident you'll love the new and improved flavors that AMINO BUILD NEXT GEN delivers!
Available In These Delicious Flavors:
---
NITRO-TECH RIPPED IS SUPERIOR TO 
THE COMPETITION
| | NITRO-TECH RIPPED | Competitor #1 | Competitor #2 | What You Should Know |
| --- | --- | --- | --- | --- |
| BCAAs | 8g | Yes (unknown amount as part of a proprietary blend) | 5g | AMINO BUILD NEXT GEN contains a massive 8g dose of BCAAs in the widely researched 2:1:1 ratio. |
| Leucine | 4g | Yes (unknown amount as part of a proprietary blend) | 2.5g | While other BCAA formulas are light on the free-form leucine or contain unproven amounts, AMINO BUILT NEXT GEN has a clinically researched 4g dose shown to increase strength by 40% in 12 weeks.* |
| Betaine | 2.5g | 0g | 0g | The competition leaves betaine out of their formulas to save on costs, but AMINO BUILD NEXT GEN is fueled by a full 2.5g dose - the same dose that helped subjects add 3.75 lbs. of lean muscle in 6 weeks.* |
| Electrolytes | Yes | No | No | AMINO BUILD NEXT GEN utilizes coconut water and watermelon juice - two naturally rich natural compound to replenish electrolytes.* |
| Taurine | 1g | Yes (unknown amount as part of a proprietary blend) | 500mg | AMINO BUILD NEXT GEN contains a full gram of this conditionally essential amino acid. This dose has been proven in research to help improve endurance.* |
2:1:1 RATIO BCAAS PLUS WEIGHT LOSS