MuscleTech Nitro-tech 4lbs & Bcaa 200 Caps
Pack content
Whey Isolate Lean Musclebuilder
Ultra Pure Whey Isolate Enhanced With Creatine & Aminos
Supported Goal

 

Build Muscle

Main Ingredient Whey Protein
---
PRODUCT OVERVIEW
Whey isolate & peptides as primary source*

Builds 70% more lean muscle than regular whey*

1

Superior to other whey protein Formulas*

1

Amplifies recovery, performance & strength*
1In a six-week, double-blind study involving 36 test subjects who have at least three years of weight-training experience divided into three groups, subjects who have combined the core ingredients in Nitro-Tech® with a weight-training program gained 70% more lean muscle than subjects using regular whey protein (8.8 lbs. vs. 5.1 lbs.) and increased their bench press more than subjects using regular whey protein (34 lbs. vs. 14 lbs.).*
WHICH NITRO-TECH PROTEIN IS FOR YOU?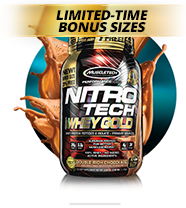 NITRO-TECH 100% WHEY GOLD
Superior whey protein peptides to support muscle building
NITRO-TECH POWER
BCAA complexes for raw power*
NITRO-TECH RIPPED
Ultimate Protein + Weight Loss Formula
NITRO-TECH NIGHTTIME
Fuel your muscles while you sleep
NITRO-TECH FUELS THE PROS
Very few proteins completely change the game, and for years bodybuilders were given very few options for protein sources that were scientifically formulated to help build more muscle. As a result, for years you could basically change protein brands every month and see no difference in gains at all.
This changed with the launch of Nitro-Tech®. MuscleTech® researchers invested countless hours working to create a protein formula that packs on more muscle and builds more strength than regular whey protein. With the powerful Nitro-Tech® formula, they succeeded and now bodybuilders and other athletes have an advanced whey protein supplement that actually delivers superior musclebuilding results!*
5.3g
Glutamine & Precursor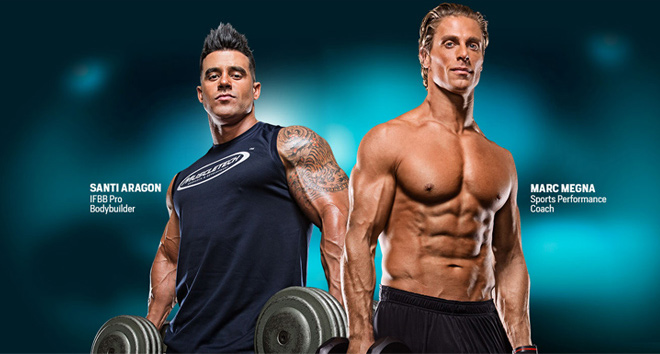 THE SCIENCE BEHIND NITRO-TECH
The Most Powerful Protein Formula Ever Developed!
Nitro-Tech is a scientifically engineered, enhanced whey protein formula designed for all athletes who are looking for more muscle, more strength and better performance. Nitro-Tech contains protein sourced primarily from whey protein isolate and whey peptides – two of the cleanest and purest protein sources available. Other whey protein supplements might have only a few grams of these highly bioavailable and easily digested proteins. Nitro-Tech® is also enhanced with the most studied form of creatine for even better gains in muscle and strength.*
Multi-Phase Filtration Technology
Each scoop of Nitro-Tech® contains 30 grams of protein, primarily from whey protein isolate and whey peptides. These have several advantages over other forms of protein.*
For starters, they are rapid absorbing, and with the highest biological value, your body can easily assimilate the amino acids from the protein to build some seriously impressive muscle. This makes Nitro-Tech® an ideal choice as a post-workout protein and for igniting muscle protein synthesis any time throughout the day.*
The whey protein in Nitro-Tech® has been filtered using multi-phase filtration technology for less fat, lactose and impurities than cheaper protein sources. Furthermore, Nitro-Tech® is manufactured according to cGMP standards, as is required for all dietary supplements to ensure quality and integrity.*
How Nitro-Tech Works
Delivers Ultraclean Whey Isolate and Peptides
Supplying 30 full grams of the most quickly absorbable and highest biological value proteins available. These are two of the cleanest sources of protein available to athletes.*
Contains a Clinically Proven Dose of Pure Creatine Monohydrate
Each scoop supplies a full 3-gram dose of the most researched form of creatine available – creatine monohydrate. Creatine in combination with whey protein has been clinically suggested by a published study to be more effective for building muscle than whey protein on its own.*
Provides All Essential Amino Acids
The protein in Nitro-Tech® provides a complete amino acid profile, which means that every serving of Nitro-Tech® provides you with all the essential amino acids, including the 6.9 grams of BCAAs critical for building muscle. Plus you get the conditionally essential and dispensable amino acids, including 5.3 grams of glutamine and it's precursor.*
Build More Strength Than With Regular Whey Protein
Nitro-Tech® contains a research-proven 3-gram dose of creatine monohydrate, which combined with whey protein, helps to build more strength than regular whey protein. In a breakthrough study, subjects using the core ingredient combination in Nitro-Tech® increased their one-rep max bench press by 34 lbs., compared to only 14lbs. for subjects using regular whey protein.*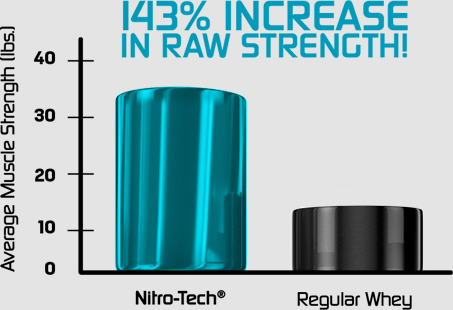 Promote Muscle Protein Synthesis
1000mg of Pure BCAAs to Ensure That Your Muscles Are Primed
Supported Goal Build Muscle
Main Ingredient BCAAs
---
PLATINUM
BCAA
8:1:1
1000mg Pure BCAAs
Promotes Muscle Protein Synthesis
8:1:1 BCAA FORMULA
PLATINUM BCAA 8:1:1 is a branched chain amino acid formula designed with a potent BCAA ratio of 8:1:1 (leucine, isoleucine, valine). Unlike other BCAA pills that use ratios like 3:1:2 or 2:1:1, Platinum BCAA 8:1:1 uses an 8:1:1 ratio to load your muscles with leucine with every serving.
Research suggests that leucine is the BCAA with the highest anabolic potential, as it activates protein synthesis within the muscle through the mTOR pathway. Every serving of Platinum BCAA 8:1:1 ensures that your muscles are primed for musclebuilding.*
THE PLATINUM BCAA8:1:1 ADVANTAGE
PLATINUM BCAA 8:1:1 ensures your muscles get the critical BCAAs: leucine, isoleucine, and valine in a precise dose. What's more, PLATINUM BCAA 8:1:1 is completely free of stimulants, making it great for stacking for real results!
| | | |
| --- | --- | --- |
|   | Platinum BCAA 8:1:1 |   Competitor #1 |
| Pills Per unit | 200 | 200 |
| Servings | 200 | 100 |
| Serving Size | 1,000mg | 1,000mg |
| Leucine amount per serving | 800mg | 500mg |
| L-leucine concentration | 80% | 50% |